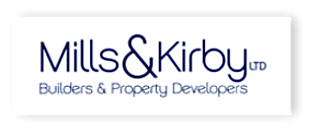 Welcome to MillsandKirby.co.uk
Mills & Kirby offer services which cover all aspects of building work, whether that would be insurance work to patio's. We offer these services to all areas of Essex, and we are based in Colchester. Below is a list of services which we offer:
If you would like more information about the above services or
would like a quote then please feel free to contact us by
clicking
here
.


Address:
Unit 6 & 7
Gosbecks Business Park
Gosbecks Road
Colchester
CO2 9JT

Tel:
01206 577994
07802 740689
07912 194753

Email:
millsandkirby@btconnect.com
Patios, Driveways,
Roofing,
Plumbing & Heating
Full Refurbishments,
Insurance or
Maintenance work
Extensions &
House Builds





• House Extensions
• Loft Conversions
• New Houses Built
• Maintence Work
• Insurance Work
• Roofing
• Plumbing & Heating
• Plastering
• Eletricals
• Patio's